Primefocus 240cm parabol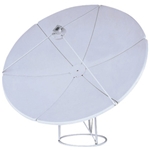 Produktinfo
  14-A240
Specifikation:
Panel (Sector Divided) 6 
Diameter (cm) 240 
Focal Length (cm) 91.5
KU-BAND Gain @12.5GHz 48.04dB ± 1dB (47,04 midband)
Aperture Efficiency 75% 
F / D ratio 0.38 
Paint (Polyester Powder) v 
Standard Mount (G/P/W/PM) G/P/W 
Pole diameter Acceptable (mm) 75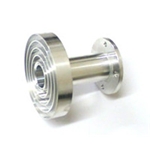 Justerbar feedhorn för Invacom och andra C120 LNB.
14-ADF-120
Har en justerbar lobvinkel (F/D) 0,32 till 0,43 används med Invacom , Mti C120 fläns LNB
 Pris 359:- sek
King post / Maströr     
Ground Stand 4,5 5 6,5" is i n the making, info soon
Kommer att skräddarsy dessa som ni vill ha dom:
Endera 1,6-2M ovan mark med rejäla ben och plattor,eller totalt 3M rör och 1-1,4M under mark att gjuta fast
givetvis med rejäla ben där med
Will customize these as you want them:
Either 1.6-2M above ground with sturdy legs and tiles, or a total of 3M pipe and 1-1.4 M firmly cemented in the ground.
Under/Ovan mark exempelritning (obs kommer även ha 3-4st förstärkningar 1-1,5m upp)
Bild visar 6,5" mast 1m under mark samt 2m ovan mark samt 3" förstärkningsrör att svetsas fast i
ballast ram som monteras på plats efter den grävts ned 1m i mark.
Avsedd för 3,7m prime focus
Offset får man dra ned förstärkningsrören så att dom ej tar i tallriken.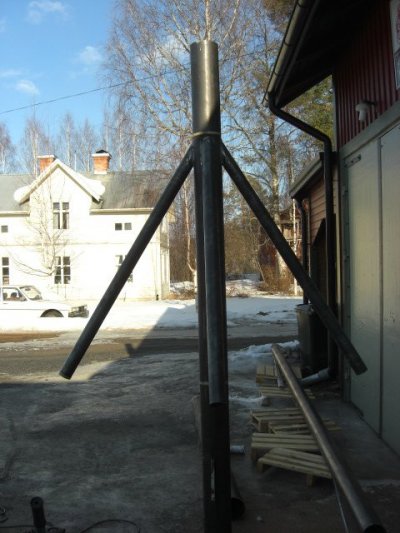 Denna 6,5" 5mm gods 3m mast grundmålad och topplackerad rostskyddad invändigt kommer att ligga på 4990:- sek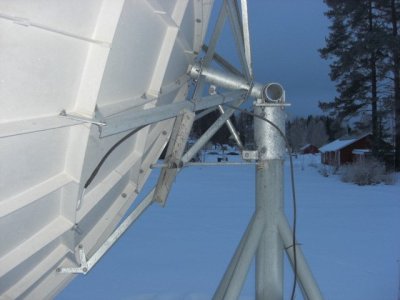 Sänd gärna en fråga eller order i rutan nedan (kopiera & klistra in)
Please send a query or order in the box below (copy & paste)