Fyndhörna:
 150 cm offset glasfiber antenna incl mount and polestand.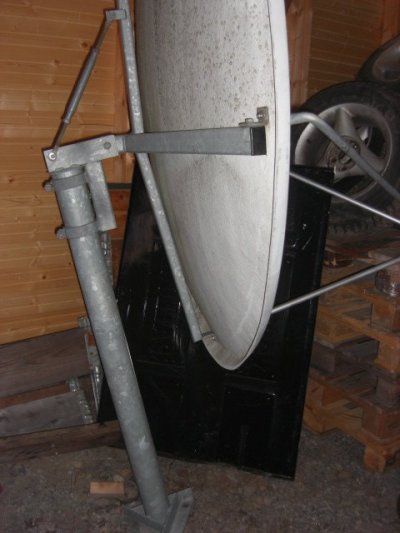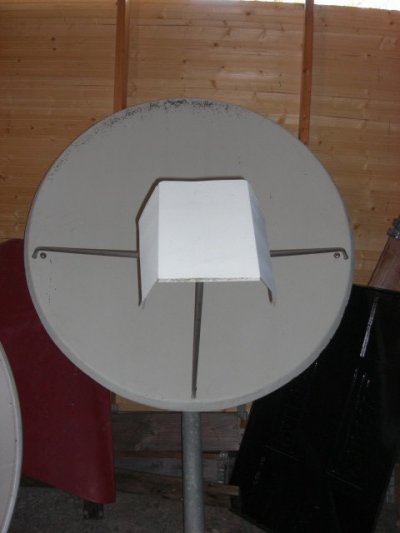 Pris 1900:- sek 
Minst 50% lägre pris !
2,2 mm Koaxialkabel CAVEL för utomhusbruk
 

Koaxialkabel med mantel av svart PE 2,2/9,2/12,7 mm.
Innerledare av koppar.
Dielektrikum av gasskummad polyethylen (PEG).
Skärm av koppar och fläta av koppar.
Vattenavstötande tätningsskikt 
Skärmningsdämpning klass A.
Kb32090 
Pris 20:-/Meter
(Rekpris:58:-/M)
Pris 699:-/100m Rulle

Gibertini Multifeed 4 lnb 23/40mm
MF66002
Pris 198:- Sek 
(Rekpris:490:-)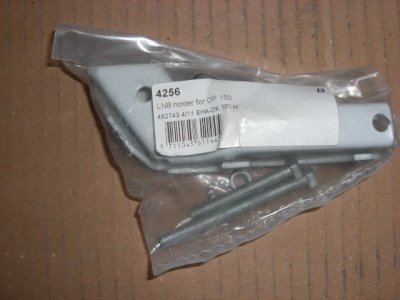 Gibertini LNB hållare
LN 4256
Pris 89:- Sek 
(Rekpris:222:-)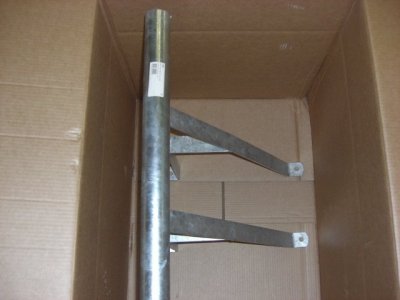 Kraftigt väggfäste komplett 2"Rör 60cm långt, 45cm ut från vägg
För parabol upp till 120cm
VF 1587
Pris 269:- Sek
(Rekpris: 585:-)
5608
Maximum Quad LNB - Pro
Pris 149:- Sek
(rekpris:335:-)
King post / Maströr     
Ground Stand 4,5 5 6,5" is i n the making, info soon
Kommer att skräddarsy dessa som ni vill ha dom:
Endera 1,6-2M ovan mark med rejäla ben och plattor,eller totalt 3M rör och 1-1,4M under mark att gjuta fast
givetvis med rejäla ben där med
Will customize these as you want them:
Either 1.6-2M above ground with sturdy legs and tiles, or a total of 3M pipe and 1-1.4 M firmly cemented in the ground.
Under/Ovan mark exempelritning (obs kommer även ha 3-4st förstärkningar 1-1,5m upp)
Bild visar 6,5" mast 1m under mark samt 2m ovan mark samt 3" förstärkningsrör att svetsas fast i
ballast ram som monteras på plats efter den grävts ned 1m i mark.
Avsedd för 3,7m prime focus
Offset får man dra ned förstärkningsrören så att dom ej tar i tallriken.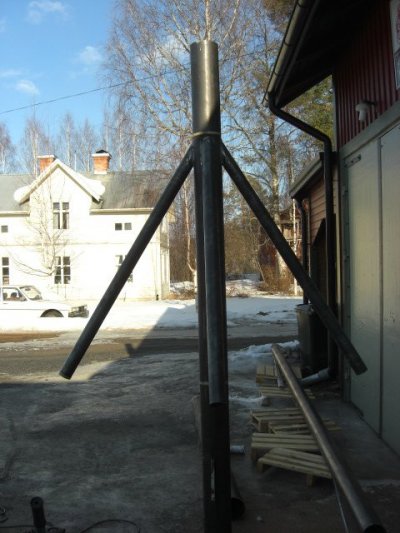 Denna 6,5" 5mm gods 3m mast grundmålad och topplackerad rostskyddad invändigt kommer att ligga på 4990:- sek
Sänd gärna en fråga eller order i rutan nedan (kopiera & klistra in)
Please send a query or order in the box below (copy & paste)